#FFFFFF

What is a Broadband Ready Community?
A Colorado community that has taken steps to encourage broadband infrastructure deployment to connect its residents. Steps can include creating a broadband task force, surveying community members, involving schools, businesses and other community anchor institutions, creating budgets and timelines, reviewing local policies and speaking with providers. 
The Colorado Broadband Office will certify broadband-ready communities and deem them on the right track and properly prepare to connect residents to high-speed, reliable internet for the betterment of residents and the community's economy.
Broadband Community Ready Checklist Overview - Applications Open Oct. 15!
Providing access to high-speed broadband is a community effort that requires planning, coordination, partnership and management at the local, regional, and state levels. It takes time and effort to plan, communicate and coordinate with stakeholders for the best interest of your residents. The Broadband Ready Community Checklist is a step-by-step guide to planning and preparing broadband plans.
Communities that complete the tasks listed in the Broadband Ready Community Checklist are eligible for designation as a Broadband Ready Certified Community. 
Broadband Ready Certified Community Designation
To apply, fill out the application below.
Once your application is submitted, CBO will request supporting documentation, including broadband plans, feasibility studies, public engagement materials, public meeting minutes, or other related documents demonstrating broadband readiness. Once certified, communities must reapply for recertification every three years to maintain the designation.
All communities with the designation will be featured on CBO's website. A Broadband Ready Certified Community designation is not required to receive funding through the Advance Colorado Broadband program but it will identify the community as a willing partner that has minimized barriers to broadband infrastructure deployment.
Certification applications will be accepted biannually on June 15 and December 15.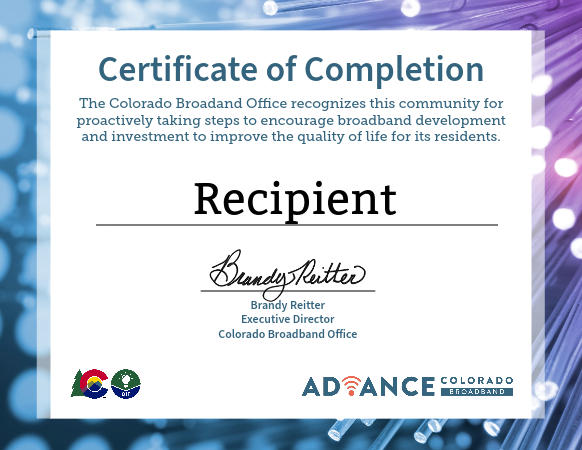 #FFFFFF
Congratulations Broadband Ready Communities!
These Colorado communities have been certified by the Colorado Broadband Office as Broadband Community Ready in 2023!
Custer County

Town of Westcliffe

Town of Silver Cliff

Huerfano County

Archuleta County

Town of Pagosa Springs

Town of Firestone

San Juan County

Town of Silverton

Larimer County

City of Loveland

Town of Timnath

City of Fort Collins

Southern Colorado Economic Development District

City of Cortez 

Douglas County

Fremont County