What We Do

The Colorado Broadband Office leads the statewide effort to expand broadband coverage and quality for all Coloradans. Access to affordable and reliable broadband service is critical to advancing Colorado's economic growth and competitiveness. High-speed broadband creates new jobs and attracts new industries, expands markets for new and existing businesses, enables better access to educational opportunities and resources, facilitates the delivery of healthcare services, and supports public safety. Broader deployment of broadband infrastructure and services will improve the quality of life for Coloradans while supporting the state's global economic competitiveness.
 
History

In 2012, Executive Order D 2012 037 charged the Governor's Office of Information Technology (OIT) with overseeing and coordinating broadband activity across state agencies. The Colorado Broadband Office was formed within OIT in 2016 to support this responsibility.
In 2020, Executive Order B 2020 009 superseded and replaced Executive Order D 2012 037 and restated the broadband responsibilities in OIT. And in 2021, HB21-1289 codified the Colorado Broadband Office in OIT.
In February 2022, Executive Order D 2022 009 directed the Colorado Broadband Office (CBO) to develop a Broadband Strategic Plan to connect 99% of Colorado households to high-speed broadband by 2027, accelerating initiatives included in HB21-1289 and building on directives in EO B 2020 009. 
In June 2022, Governor Polis signed Executive Order D 2022 023 rescinding EO B 2020 009 and restating directives from EO D 2022 009 on Accelerating Broadband Deployment in Colorado, creating a single streamlined directive concerning broadband access in Colorado.
Mission
We are committed to enabling the development of a statewide digital communications infrastructure through public-private partnerships to meet the growing demand for broadband access in the key sectors of public safety, education, health care, transportation and for all Coloradans.
Vision
Coloradans should have equal access to affordable, fast, and reliable broadband service.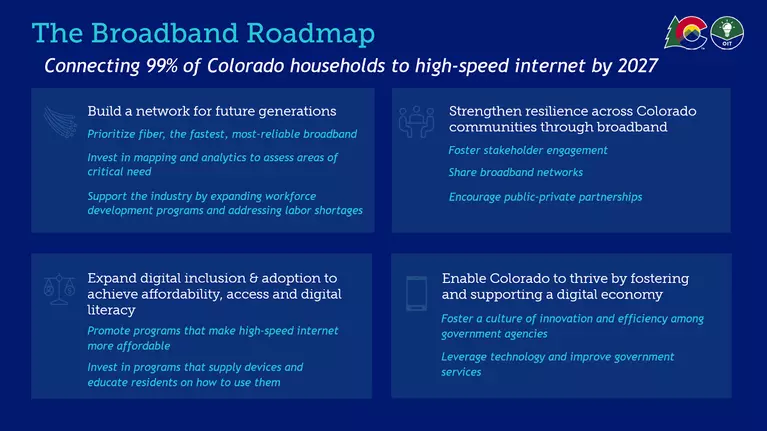 Colorado Broadband Roadmap
Earlier this year, Governor Jared Polis signed Executive Order 2022 023 (EO), accelerating broadband deployment in Colorado by setting a goal of connecting 99% of Colorado households to high-speed broadband by 2027. The EO directed the CBO to develop a five-year strategic plan outlining how to achieve this goal. The Broadband Roadmap, which compliments Colorado's Digital Strategic Plan, is a collaborative plan between CBO and other state agencies and defines how Colorado will invest $500 to $700 million in broadband statewide.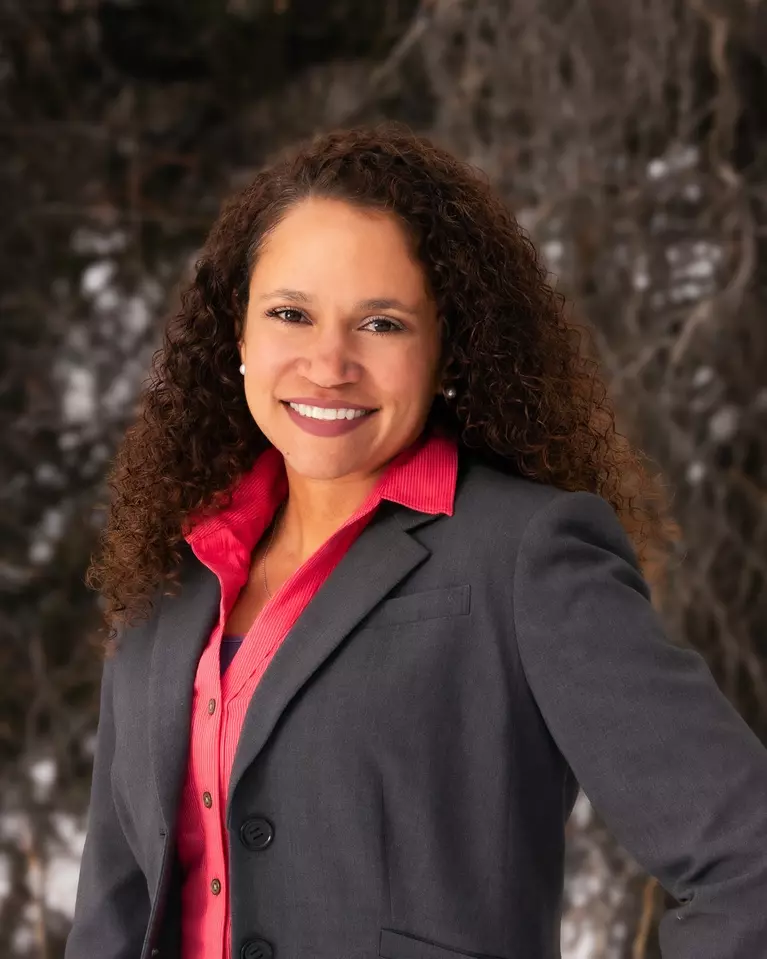 Brandy Reitter, Executive Director
970.373.7525, Email Brandy
Brandy joined the Colorado Broadband Office in 2022 and is responsible for providing oversight and management of the office's programs and state-wide strategy for broadband deployment. Her work includes education, outreach, supporting regional collaborations, fostering relations with partners, and mobilizing resources to improve the access and affordability of high speed internet. She works to assist with policy and legislative development, serves on various broadband boards, and supports the work of the office. 
Her professional experience includes 15 years in local government management in cities and towns across the State of Colorado. As a former Town Manager, she built broadband programs in rural communities and has leveraged resources to deploy broadband in her communities. Her local government experience includes managing towns in Weld, Chaffee, Saguache and Eagle Counties. She has served in roles in public utilities, economic development, and government operations in the City of Longmont, City and County of Denver and the Government of the District of Columbia. She has a Masters in Public Administration from the University of Colorado Denver School of Public Affairs. In 2020, Brandy won the City Manager of the Year for the State of Colorado by the Colorado City County Managers Association and has been appointed to boards for several civic organizations. 
Brandy is originally from Colorado and grew up on the Front Range. She moved to the high country 10 years ago and has lived in Summit, Chaffee and Eagle Counties. She calls the Town of Eagle her home and has spent most of her career in rural Colorado. In her free time, Brandy enjoys skiing, camping, running, mountain/dirt biking and rafting the Colorado and Arkansas Rivers. She enjoys these activities with her husband Chris and dog Tink.